The Life of a Courtesan
But Were They Working Prostitutes?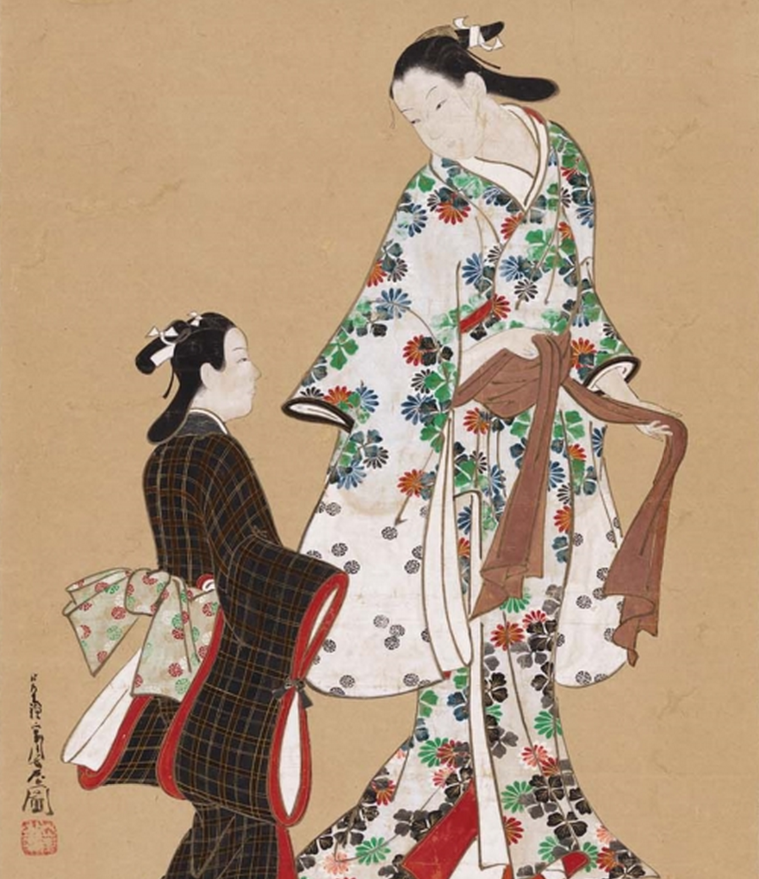 In Japan, the popular belief is that newly promoted girls weren't active prostitutes. They debuted as shinzō (newly fledged prostitutes), were licensed as prostitutes, dressed like prostitutes, and sat in the latticed parlor like prostitutes, but they didn't actually take customers for a few years. The minimum age of prostitution was 15 to 18 for the 17th through 19th centuries, so it would be illegal for new shinzō to take customers, and after all, they were so young...
So was Usugumo, who at 15 had been a tayū for three years, and Shiraito, who debuted at 13. There's no such thing as a virgin tayū. If the best of the best became full-fledged courtesans at the Western ages of 11 and 12, why would brothel owners spare girls who were far less distinguished?
There's also the evidence of legal cases, such as the case of Tora, a a girl of 11 (Western age) whose mother and stepfather indentured her to the Tomitaya, a failing brothel on the island of Mitarai, in 1862. Her parents put in her contract that she was to work as a maid for the first four years. Her employer waited eight months. Not only did Tora work as a prostitute from age 12 to 14 or 15, but when she fled the brothel and returned to her parents, her attempt at escape ended in a forced marriage to the brothel manager's son—all before the four-year limit in her contract. Not once did a single one of the many, many officials involved point out that Tora was underaged. It was irrelevant.1
There was also the financial aspect to consider. Brothel masters were stingy bastards. They created an industry in which a woman who became pregnant or caught veneral disease on the job paid for her own medical treatment and made up every day she missed, whether by extending her contract or paying the brothel out of her own pocket. This soulless, grasping approach to money wasn't going to go wobbly at the knees at the sight of an innocent new shinzō. The money paid to a girl's guardians was an advance on her future earnings; when Tora's parents stipulated that Tora was not to work as a prostitute for several years, the brothel reduced the price of her contract accordingly. (And then ignored it.) When a brothel paid full price for a girl, it was because they expected full return on their investment.
For people of the Edo and Meiji periods, adulthood started early and life was short. Most working-class women didn't marry until well into their 20's, but if they could marry earlier, they did; and if a girl could sleep with a husband at 12 or 14, why couldn't she sleep with a client? The attitude was intensified by the sex industry, which always—everywhere, in every country and every era—drags girls in as young as it can catch them.
---
1 You can read Tora's full story in chapter 6, "Tora and the 'Rules of the Pleasure Quarter,'" of Selling Women: Prostitution, Markets, and the Household in Early Modern Japan.
Updated 1/20/2015