Crab and Cucumber with Golden Dressing
Kani to Kyuri no Kimizu-ae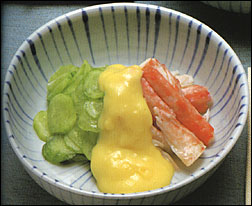 This simple salad comes from A First Book of Japanese Cooking, by Masako Yamaoka.
Salad
6 oz canned or fresh cooked crab meat
1 small cucumber
Rice vinegar
Peel and seed the cucumber. Slice thinly and soak for 10 minutes in one cup of water containing 1/2 tsp salt. Drain the cuccumber, squeezing it gently in cheesecloth or a strong paper towel. Sprinkle lightly with rice vinegar.
Drain the crab meat. Remove any shell or cartilage. Sprinkle lightly with rice vinegar and a pinch of sugar.
Mound the ingredients side-by-side in four small bowls.
Dressing
2 egg yolks
4 Tbsps secondary bonito stock
2 Tbsps rice vinegar
1 Tbsp sugar
1/4 tsp cornstarch
2/3 tsp salt
Combine all of the dressing ingredients in a double boiler. Stir constantly over boiling water until the dressing thickens. Remove from heat and keep stirring until the dressing cools. (This prevents a skin from forming.) The dressing is done when it is about the consistency of mayonnaise.
Spoon one tablespoon of dressing over each serving. If you have dressing left over, cover it and put it in the fridge, where it will keep for a week.
According to the book, this recipe has only 85 calories per serving.